Catalog of services
Provide
ennCloud GLIMP, a Cloud enable Technological Infrastructure which supports all the intermodal requirements of the distribute trading partners –operators, users,...–, providing great improvements in productivity, competitiveness, cost reduction, optimization of time and eliminating inefficiencies in the Networked Supply Chain to the Traffic & Logistic Sector
Related documents
ennCloud GLIMP Overview
Download
ennCloud GLIMP Services & Solutions
Download
Related Services 3S Offering
Infrastructure
Supply Chains
Integration Use Case
A Cloud enable Technological Infrastructure that supports all the intermodal requirements of the distribute trading partners –operators, users,...–, which enables the achievement of significant improvements in productivity, competitiveness, cost reduction, optimization of time and eliminating inefficiencies in the new emerging Logistics Networked Supply Chain Sector of Conteneraized Traffic.
ennCloud GLIMP´s Core Management System is interoperable with any Corporate Internal Information System and is able to have an user interface customized for every Operator –storage areas, shipping routes, entry restrictions, ... –
ennCloud GLIMP is installed in a Central Node, synchronized with local nodes distributed in each terminal, whose orders are sent to the internal systems and mobile devices through a simple management interface.
ennCloud GLIMP supports the Containerization –Intermodal freight transport using standard intermodal containers as prescribed by the International Organization for Standardization (ISO)–, ships, railroad cars, planes, and trucks.
Freight transport in globalization is "invisible" and is based on IT alignment supporting "seamlessly" Intermodal Networks Infrastructures.
ennCloud GLIMP´s Technology support Smart Transport and Space Adjusting Technology (SATs) strategies which integrates production and distribution intermodal points.
ennCloud GLIMP Solution such as transport produce flows linking places, not goods in places.
ennCloud GLIMP provides corporate and end- users with the specific data, security, alerts and reporting capability for exception management, audit and analytics information, and operating system integration (ERP, TOS, TMS)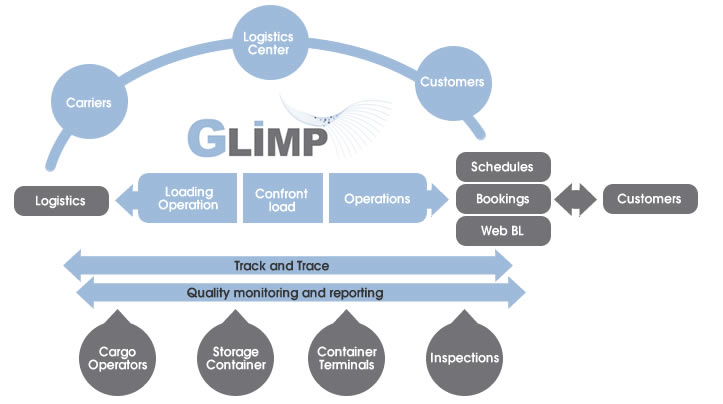 Through a friendly drag & drop interface, Local Control Station users manage and shape the actions and tasks to be executed by operators as well as conducting their follow-up
GLIMP´s Local Control Station allows the generation of statistics on all activities in the logistics center for further analysis, study and optimization of production processes.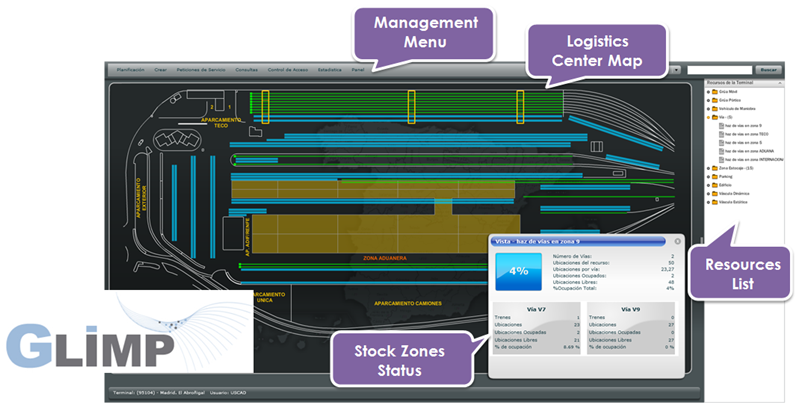 The management and logistical system architecture is composed of a set of subsystems that form a common Cloud architecture. Inside this architecture we can find two types of subsystems:
Central Control Station (CCS), central subsystem of the architecture able to centralize and manage the information exchange between different logistical centers. It works like a entrance point of information for the platform.
Local Control Station (LCS), those subsystems are implemented in each logistical center and are responsible for the independent management of the logistical center itself. It synchronizes with the CCS for the reception of new information and for its customization.
Cloud Computing can exploit "seamlessly" the Intermodal Networks Infrastructures
Containarized Networks can be enhaced throught Cloud Services at two levels
Intra-company (fleet management)
Web Services implement the abstraction of physical devices (temperature, pressure, position) placed on the container of dangerous goods (and not on the truck)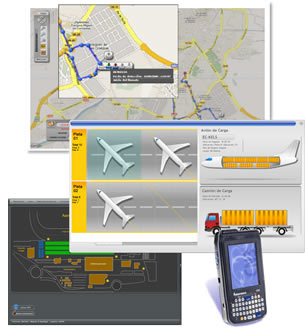 Web services as resources that provide information on the status of the container.
Inter-company
Interoperable exchange of data among companies and risk management agency
Web services for seamless integration of Enterprise Information Systems.
Better coordination among companies
Joint and efficient schedule of routes.
Provide updated information to customers.
Better coordination with goods and risk managers
Centralized (inter-company) monitoring systems.
Timely detection of emergencies.
Easier collection of information about damanged containers and detection of accidents.
Billing Management Integration Solution
Fee Management
This module manages all the rates applied at checkout. Have a management with a user interface. The fee structure depends on the billing process to be defined during the analysis phase.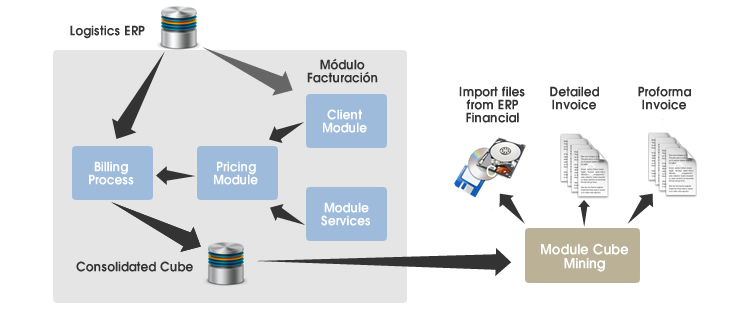 Billing
Generates the necessary support for each invoice, detailing the services billed. Includes a management interface to recover history.
Is the proprietary process billing. From the queried data in the repository that consolidates the information to bill the Logistics ERP system and the tariffs will apply the billing process-a set during the analysis phase, to obtain the file invoices and interface with Navision.
UI Consulting
From this query interface will be available as well as invoices and made ??history. Pending define the timing of the information on this platform.
Prefectural
At any time you can issue a prefecture for a service, it shall consult the information directly to the Logistics ERP.