Catalog of services
Provide
SIGTB FinTech is based on open architecture and new generation designed to accelerate business processes and cycles of any financial organization, to align technology and business. It becomes an Alternative Technology Platform based on the Development Bank Cores philosophy, configurable and modular, enabling high efficiency in the aspects technological, functional and regulatory of any entity.
Related documents
SIGTB FinTech - New Banking
Download
Related Services 3S Offering
Philosophy
FrameWork
Perimeter
Big Data
Methodology Model
SIGTB FinTech supports the six important drivers that will cut across financial sector functions and will promote clusters of innovation
Streamlined Infrastructure: SIGTB FinTech Platform is a decentralised technology that provides new ways to aggregate and analyse information, improving connectivity and reducing the marginal costs of accessing information and participating in financial activities
Automation of High-Value Activities: SIGTB FinTech promotes and support innovations leverage advanced algorithms and computing power to automate activities that were once highly manual, allowing them to offer cheaper, faster, and more scalable alternative products and services
Reduced Intermediation: SIGTB FinTech enhances emerging innovations are streamlining or eliminating traditional institutions' role as intermediaries, and offering lower prices and / or higher returns to customers
The Strategic Role of Data: SIGTB FinTech leverages innovations allow financial institutions to access new data sets, such as social data, that enable new ways of understanding customers and markets
Niche, Specialised Products: SIGTB FinTech will ease the new entrants with deep specialisations are creating highly targeted products and services, increasing competition in these areas and creating pressure for the traditional end-to-end financial services model to unbundle
Customer Empowerment: SIGTB FinTech strength innovations giving customers access to previously restricted assets and services, more visibility into products, and control over choices, as well as the tools to become "prosumers"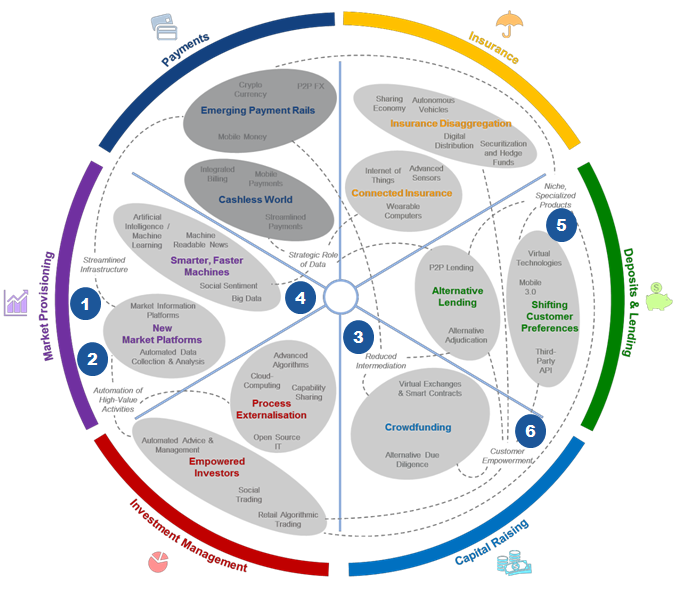 SIGTB FinTech enables integration and interoperability with any of the many technologies that can be installed in a financial institution, ensuring scalability, thereby allowing the business to accompany the growth in an absolutely transparent mode.
It offers a model Data Abstraction Layer thus decoupling the Data Model and independence of the Database Manager, supporting the standards of the Industry.
It presents a flexible and interoperable transactional environment enabling to the financial entities to customize the presentation layer of content, providing web 2.0 facilities for communication, collaboration and information (managers, customers, suppliers, employees, ...).
SIGTB FinTech drastically shortens the development and deployment time compared to other market solutions enabling the configuration and customization of the presentation layers, functionality of the various modules, business rules, user profiles, ... in an easy, simple and friendly to the needs and strategy of the Bank from its power configuration.
SIGTB FinTech drastically reduces operating costs of the Core Banking (MIPs, maintenance, support, ...). The Technology Platform Development Philosophy for Bank Cores is based on configurable and modular layering scheme, enabling high efficiency in its evolution derived from the functional, technological and policy needs of any entity
SIGTB FinTech presents an Abstraction Layer Model that covers the application core whose ability to parameterize allows the modification of the application behavior, minimizing the need for source code modification to achieve this.
SIGTB FinTech FRAMEWORK environment is the set of features that allows to deploy the strategy of accelerated construction of Business Processes, Services and Verticals.

SIGTB FinTech Architecture components is based on Layer-structured around Reusable, interoperable and integrable models with data and other transactional banking services, and particularly from those used more intensively in the market.
Transactional Core Layer
Components that make up the core layer:
People: management and maintenance of natural persons and Law relating to the financial institution through contracts, or that might be associated with them in the future as a result of new linkages.
Product Catalog: It allows the definition and maintenance of products and services sold by the Bank, enabling proper operation by setting any of its attributes.
Accounting: Allows the creation of the chart of accounts and accounting records of the various transactions of the entity. This module is based on parameterization and flexibility to adjust to changes that may occur in the future, minimizing the impact on other applications that is based on the strategy of a financial institution, and which apply to high value added business.
Contract Management - Agreements: Allows to establish the negotiation and contracting policies of the financial institution, as well as the established contracts with third parties. This system component supports activities from the application of a Contract to the reporting of the denial and file, or full operation of the approved contracts.
A.M. Account Movements Management: All moves or passes accounts automatically produced from the operation supported by transactional and transaction execution philosophy modeled and executed under Workshops & Engines.
N.B. Notes and Balance Management: All operational movements that cause registration of notes and update any of the balances involved, automatically produced from the operation supported by transactional and transaction execution philosophy modeled and executed under Workshops & Engines.
E.J. Electronic Journal: Manage traceability and audit of all transactions and movements of any kind. Provides an interface capable of handling cancellations, reversals or any particular intervention was required.
I.M. Incident Management: Manages automated manual intervention or compromise of any incident produced any instance of the circuit.
I.C.U. Institutions, Centres, Users and Profiles: Cross-type module which supports the definition and maintenance of Financial Institutions, its organizational structure and its staff, allowing to adapt the functioning of the organizational model of the financial institution. It also allows to the Finantial Institutions to define all levels of permissions and responsibilities of all actors involved in the Model.
Gatherings: cross type module which supports all communication processes with external entities, allowing the definition of interfaces, ETL or web services, as required, to ensure the information interoperability from different satellite organizations linked to the financial institution.
Data Model Transaction Layer
One of the main features of SIGTB FinTech is the construction of generic parts in the form of pay components that enable the concept of reusing, generalizing and encapsulating models that express similarities present in specific implementations after achieving independence from them.
In that vein, The SIGTB FinTech Abstraction Layer supports a Data Model APIs delivering publications to be consumed as interstitial services between different modules CORE.
Main advantages of this model:
Undock the Data Model: If any changes occur to the Model, CORE will not suffer any structural trauma. Applications continue to operate transparently to the Database Manager, it is only necessary update the service API that corresponds to the change.
Independence Database Engine: It means that CORE will be able to withstand a change of Database Engine without the need to change syntax or compilations.
Clean Code: Framework provides a Catalog of The ennCloud SIGTB for FINTECH APIs to manage interactions with the database. This will get the one hand, uncoupling Inquire layer and the other hand, you get a clean code of SQL predicate
Development Environment Layer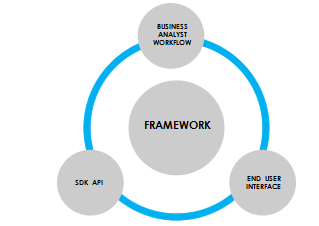 SIGTB FinTech Framework provides an infrastructure Development Environment that allows a building, containing a set of concepts, values and practices that facilitate and accelerate the process modeling and Building Services and Applications, all geared strictly to the World of Banking.
SIGTB FinTech Framework has been designed not only to build applications, but provides the kit of components required to model and implement naturally the reality of the Bank.
The ennCloud SIGTB for FINTECH Framework enables launch a Core Banking Project whose development can be designed and organized with a component-based guidance, which helps drastically accelerate the project life cycle, while constituting a space for participation, collaboration and coordination to all active players involved in its construction.
SIGTB FinTech owns the following Construction Framework:
SDK API
The SDK / API Environment allows to work in a collaborative manner, using all available resources in the project.
It proposes the develop management from the perspective of encapsulated components, whether both pieces of code as APIs that handle interactions with the IO layer (DDBB - Data Model).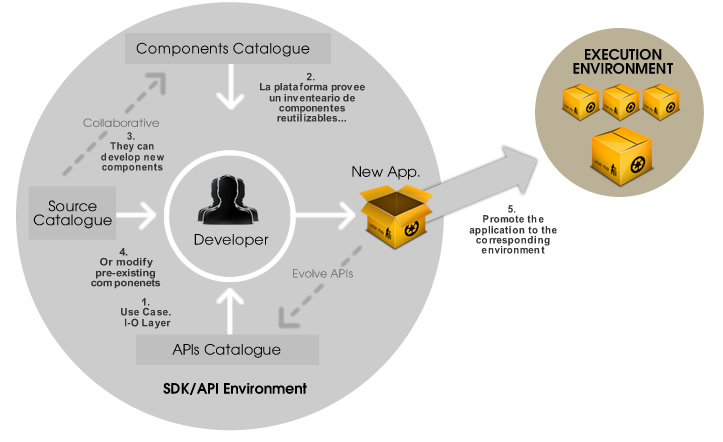 WorkShop & Engines
Back-end configuration Workshops: all the BackEnd processes are decoupled from the management and are configured on Workshops designed for this purpose. Then, the associated engines, at runtime, interpret the configuration of business rules parameterized by the architect user.
Feeding of the data collected in their own management and browsing satellite data segment identifies the transaction to be executed, produces the necessary calculations, produces the movements, updated operating balances, notes operational accounting and auditing in the electronic journal.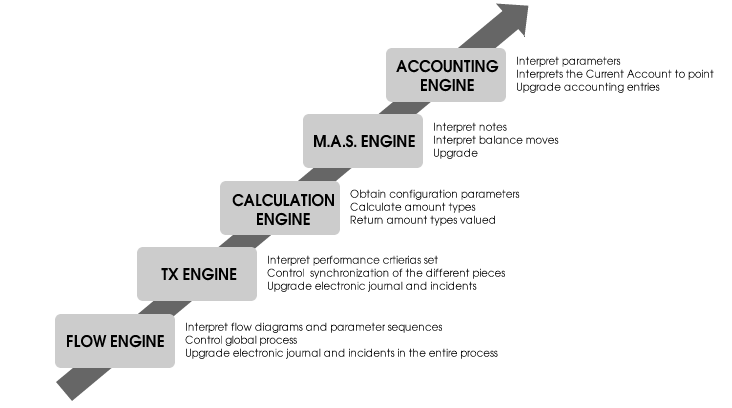 Batch
SIGTB FinTech incorporates the concept of SLIM BATCH. In this mean, is possible to manage whatever the number of possible operations (which were derived conventionally massive batch processing) atomically BackGround activating a slope from the ON LINE.
This facility provides the ability to lose weight to a minimum possible number of operations that are consumed in a traditional setting Batch.
The Batch WORKSHOP allows SIGTB FinTech: Planning Process, Mapping Sequence Order, Configure Parallel executions (Map Reduce) and determines the execution in the form chosen (BackGround or Batch Typical)
On the other hand, allows to start Processes BATCH ENGINE set to BATCH WORKSHOP. All processes that they will invoke TX using queues (queue) and transactions invoked shall be settled by reusing TX ENGINE.
Depending on how the implementation has been set, the process will run in atomic form in the ON LINE or in batch process the lot. If execution is BackGround chosen, then, raise a virtual channel so that the execution does not disturb the performance of the operation ON LINE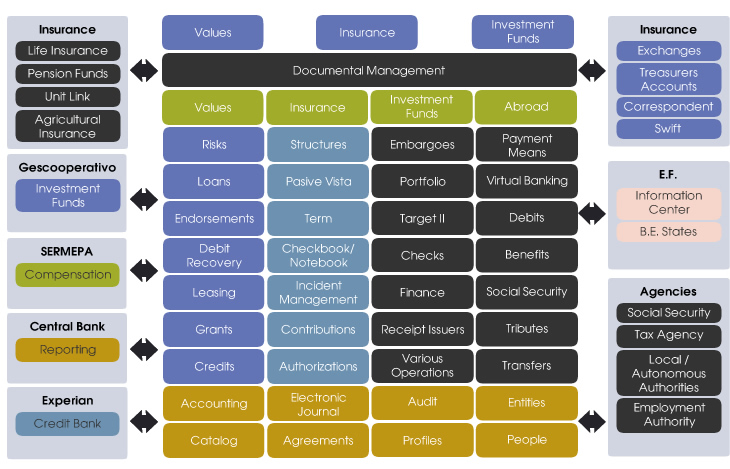 Data and decisions for Finantial Institutions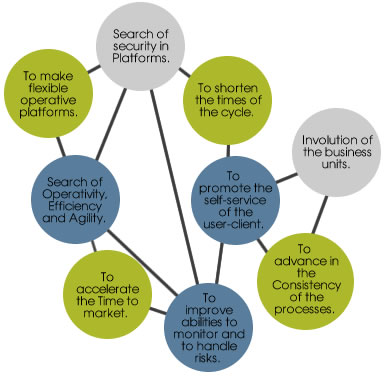 Technologies for extracting intelligence from data are maturing, adding urgency to all aspects of data management. There is now exponential progress being made in companies' ability to aggregate and secure data and provide insight quickly and effectively to the right people at the right time. This data-based intelligence surge will significantly impact banking sales, marketing and services functions and will support the increasing development of channel-specific solutions. Opportunity areas for banks include decision tools and underlying support systems that help to better understand risk, enhance sales and customer service and reduce time to serve.
During the next three to five years banks will have significantly better data and greater intelligence about customers. It will be available at the "fingertips" of all customer-facing functions, enabling more efficient and effective sales and service. Companies will be able to capture and retrieve less-structured data types (image and voice, for example) and increasingly use external public data sources. Analytics will be in place to support real-time decision making for both banks and their customers. Data and decision tools also will greatly evolve the information support for decision-making among bank customers and prospects. Customers will have the right information about such things as products, services and billing at their time of need, and it will be delivered via multiple possible channels including contactless interface via phone.
Banks' common, or hub, services such as customer management, product management, pricing and knowledge management will leverage rulebased analytics and visualization tools to support better decision making in pricing and many other functions. And, in the enterprise support functions, the focus of advanced analytics will be on areas such as mitigating risk through automatically and immediately notifying staff of regulatory changes or reporting non-compliance via channels such as email.
To enable real-time analytics banks also will have improved data scrubbing, data quality management, data security and governance. In fact, data quality management will enable banks to make critical improvements in verifying the quality of data (such as in payments and stock trades), securely source external data and share data between applications.
maatGroup through his practices of services to the Banking Industry and Financial aid to its clients to understand, to adapt and to anticipate themselves to the new models that emerge in the sector. Against this background it is fundamental these organizations to incorporate flexible technological models to align technology with corporative strategy.
Methodology, Organization and Project Management. Differential Aspects
The project methodology has allowed us to overlap mode in the different phases that compose it, involving end users in neuralgic issues and not superfluous.
ennCloud SIGTB for FINTECH Framework is designed to shorten cycle times achieved in the development of a Core Banking-accelerating functional analysis, transformation processes and cycles.
ennCloud SIGTB for FINTECH deployment enables a development strategy that allows a development methodology with a reduced level of functional impact and involving all active players in the dynamics of building the solution
As discussed, focusing efforts on the part design generic, configurable and customizable in order to capitalize on that effort and implementation time implementation.
The Training Plan SIGTB FinTech Knowledge Transfer has proven methodologies and covers all levels and actors involved in the process. Each one of the SIGTB FinTech training is supported by all documentation necessary to ensure the operation, maintenance and operational control ..